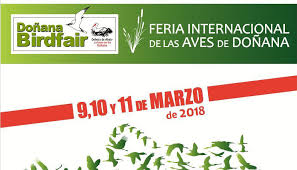 For the second consecutive year we are going to be in the V edition of the Doñana Birdfair, which will take place from 9 to 11 of March. The place chosen to celebrate this edition of the International Doñana Bird Fair is the CONCERTED NATURAL RESERVE OF "LA DEHESA DE ABAJO", located in Puebla del Río, less than 30 minutes from the city of Seville. It is a space of great interest for its natural values formed by three very different ecosystems; the floodplain marsh, the acebuche forest and the pine forest area, where it is possible to observe a multitude of wildlife species.
In addition to the spectacular enclave, the fair has a large number of exhibitors from different areas related to ornithology and there are many activities and conferences, including a practical workshop on the sounds of the night and the conference "The barn owl, common? In Spain" that will be made by Brinzal.
We hope you will come to enjoy with us the Doñana Birdfair and its wonderful surroundings and that you come to meet us at our stand. Do not tell you missed it!
Check the program in the following image.