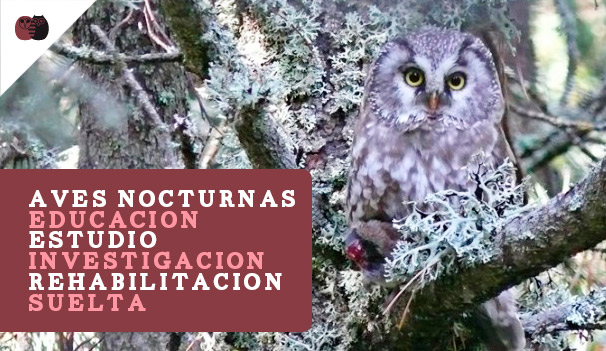 The existence of recovery centers is necessary from different points of view:
THE IMPORTANCE OF THE CENTER

Every year thousands of birds are found injured or orphaned. These birds must be treated. The rehabilitation of a bird not only includes veterinary aspects. Only in a recovery center can be carried out this work with warranty.

Owning other protected birds of prey is absolutely prohibited, but are normal people who generally find injured individuals. There must be a person legally entitled who take them over.

Rehabilitation and breeding of certain species, especially those that are in danger obviously is not the solution to the decline of their populations but can be a significant help.

Furthermore, analysis of the causes of admission (and therefore mortality) provides highly relevant information to undertake conservation projects.

From the point of view of conservation, perhaps the educational work of recovery centers is more important than rehabilitation itself. Respond adequately and explain to the person who has collected the bird, allow birds to continue its evolution in the center, and release the animal with its own hands, or with groups of interested people is an all educational activity.

In a rehabilitation center can be performed research ranging from natural optimization techniques (veterinary and rehabilitation) to work on biometrics, parasitology, ethology, moves, etc. Many of these data can only be obtained from captive specimens, it seems logical to take advantage of the period of these animals in the center, of course if it does not affect the recovery process.
BRINZAL, a center specialized in nocturnal raptors
Almost all centers are generalists (they deal with wildlife in general), so Brinzal is an exception as it is dedicated exclusively to a very specific group of birds, nocturnal raptors.

Specialization is the best way to optimize the process of rehabilitation and release. Many of the techniques and facilities are designed specifically for owls.

On the other hand, the experience of the staff of the recovery center is focused on this group of birds.

One of the main advantages of specialization, perhaps the most important, is the accumulation of practical experience in relation to the target species.

We also work with a small number of species, which allows us not to accumulate an excessive number of animals per installation, especially when it comes to highly territorial species. We can also perform a more individualized monitoring of each issue, particularly in aspects that deal with rehabilitation.

This is evident, it can not be assessed in the same way the evolution of a specimen that is alone on a flight cage if it is with more specimens.

As we work with a small number of species, we are not forced to mix them, especially when it they are species whose association never occurs in nature and therefore is contraindicated in captivity.

The owls, even of similar sizes are competitors and therefore rivals.

CONVENTION AND COLLABORATION

The government also lend us their help. Managing recovery center for nocturnal raptors is conducted in accordance with existing collaboration agreement with the Ministry of Environment, Housing and Territorial Planning of the Community of Madrid.

Madrid City Council helps us in building new facilities and the Department of Youth (Madrid) gives us the place on which is located the headquarters of the association and the recovery center.