The Town of Ciempozuelos and Brinzal have signed a collaboration agreement for the development of AgroSOStainable project, which has the support of the Biodiversity Foundation, Ministry of Agriculture, Food and Environment and the European Outdoor Conservation Association (EOCA)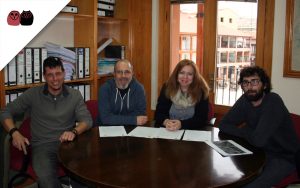 . The agreement aims to develop actions to increase awareness, knowledge and conservation of biodiversity associated with the farmland environment.
One of the actions already being carried out is the design of an ornithological route near the Soto Gutiérrez, a place of great ornithological value for the number and importance of species within it, as kites, plovers, large egrets or reed bunting.
Our thanks from here to the town of Ciempozuelos for their invaluable support and collaboration.