One more year Brinzal was at the fair MADbird 2018, the ornithological fair in Madrid, where a large number of entities related to bird watching, nature divulgation and protection of nature meet every year.
As it happened in previous fairs this year, the less desired guest has been the rain, luckily it has not been so unpleasant as in Doñana Birdfair, but something more annoying than in OrnitoCyL. Luckily, the time has improved as the weekend advanced and with this improvement, the influx of visitors was increased.
One more year we were sharing stand together with our AMUS companions. This year more than ever because of its hard economic situation, that's why we share and ask for diffusion and support to this necessary hastag #SalvemosAMUS
On Friday afternoon, our Coordinator Raul Alonso gave a lecture on the importance, applications and benefits of the labeling of products in favour for Biodiversity. Not many people attended, but the people who came had a great time as well as learning.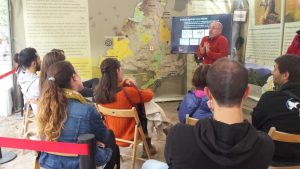 On Sunday, we made an animal footprints workshop for the youngest children, who put a lot of enthusiasm and took their magnificent works home.
One more year we have to emphasize the good coordination and the good atmosphere among exhibitors. We want to thank the organization for all the effort and we hope that they will continue improving it, edition after edition.