Even though spring has started in an unusual way, colder than normal and too rainy, the signs that it is already here remain unequivocal. If the other day we announced the arrival of the first blackbird chick (Turdus merula), Now it is time for chicks and fledglings of nocturnal raptors to enter Brinzal.
The unrecoverable pairs of Barn Owl (Tyto alba) from our center have begun to breed. After several weeks of incubation, we had the opportunity to meet their first chicks born in our center this 2018. After a few hours of observation, these little ones are now in the care of their own parents waiting for the arrival of more siblings. Once they grow and get prepared to live in nature, they will be released by the Hacking method in different parts of the territory, they will be part of an ambitious conservation project in which in collaboration with the environmental council of the Community of Madrid.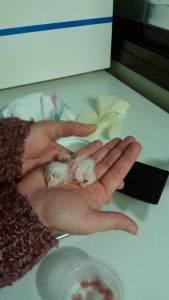 On the other hand, during this weekend they have entered two fledglings of Tawny Owl (Strix aluco) from Talamanca del Jarama. Both were found by two neighbors when they walked with their dogs through a local park. Now they are safe in Brinzal in the care of their new adoptive parents who will teach them to behave like one of their kind.