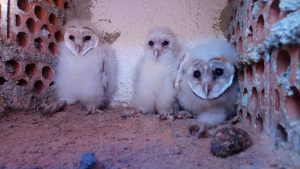 We have already started reenforcing the barmn owl (Tyto alba) population in the Community of Madrid. One more year our breeding program in captivity of this threatened species continues. Thanks to the couples of irrecoverable animals, who can not be released to nature because of their injuries, with the right conditions are capable of lay viable eggs. From these eggs are born dozens of chicks. When they are sufficiently developed, both physically and psychologically, are taken to their new home: nature.
To get them to move forward and know their new territory, we use the hacking technique, which consists of introducing the chicks of about 30 days in a nest-box and for a couple of months to continue providing them food manually. When they are ready, they begin to make their first flights, knowing that in the box they have food. Little by little, they will start to hunt and look for new places to hide, then we stop providing food. The first of this year will be in charge of the NAUMANNI association.
We also continue with the project 'Influence of agricultural uses on the ecology of endangered wild species: the case of the Barn Owl' also known as the Alba Project Phase 2.
We are convinced that all our efforts are going to work and that this enigmatic species will rise again.